Hi everyone,

Welcome to Part 2 of my trip to Baltimore. I hope you enjoyed the Detroit to Baltimore segment. The link to that TR: http://airlinersindia.s4.bizhat.com/viewtopic.php?t=15191 in case you missed it. After spending a wonderful weekend visiting places in Washington DC, College Park, and Great Falls, Virginia, it was time to head back to Detroit. My flight back with Delta would be on an MD-90 scheduled to depart at 17:54 EDT. I engaged another Lyft cab to take me from College Park to Baltimore Washington International. The airport is located in Linthicum, 16 miles south of the city of Baltimore. The ride to the airport, which was only supposed to take 30 minutes, was stretched due to traffic. I reached the airport at 4:35 pm, an hour and 20 minutes before the scheduled departure.



Curb-side at BWI





I found a Delta kiosk to check-in and print my boarding pass before heading out to the TSA Security checkpoint. I really liked the BWI airport; it was well maintained, looked new, and had wonderful natural lighting. Security check took a while owing to the evening rush at the airport. There was no

Soan-Papdi

experience this time; I was airside at 5:05 pm. BWI was very lively around this time, just the way an airport should be. They also had some music playing on the speaker system.

If you enjoy plane-spotting, BWI is one place that you will love. The airport has huge windows that offer unobstructed views of the action on the tarmac. The airport also has an open to the air observation deck. Sadly, this was closed due to maintenance. Some of the pictures that I managed to take in the 20 minutes that I had for plane spotting are below:



Post security at BWI



Regional jets in the distance
JetBlue's A320-200-N580JB named "Mo' Better Blue" prepared for her flight to Orlando. This flight was later diverted to Palm Beach International
American Airlines' Boeing 737-800 would be flying to Charlotte
This A321-200 had come in from Phoenix
Alaska Airlines' Boeing 737-800 with Scimitar wingtips to Portland. The nose had the text "Proudly All Boeing." Not anymore, Alaska.
Baltimore-Washington International is one of Southwest Airlines' hubs. Ironically, this was the only picture of a Southwest jet at the Gate that I had taken
UPS Worldwide Services - Boeing 767-300, taking a break after hauling in freight from Louisville
An Embraer ERJ-175 belonging to Air Canada Express was preparing for its flight to Toronto Pearson International Airport. The MD-90 in the background had just landed from Detroit.
Walking through Concourse D, headed for Gate D25
Delta's part of the Terminal: A Delta Boeing 737-800 in SkyTeam Colours. N3758Y was flying to Salt Lake City
N866DN, a Boeing 737-900 was flying to Minneapolis St. Paul
N901DE - MD88 service to Atlanta. The First Officer can be seen doing the external inspection of the aircraft prior to departure
Another Scimitar Winglet. United's 737-900 wearing the "Eco-Skies" livery
All set for departure!
Sincere apologies for the awful image quality, but this is the closest I could get; I don't know if this one is still in operation.


Boarding for my flight to Detroit was announced at 17:30 EDT. The gate area was pretty small, and there was a fairly huge crowd around the gate area comprising of passengers for the Detroit flight and the flight to Atlanta in the neighboring gate. As always, passengers were trying to get last-minute seat upgrades, but many were left disappointed as the flight was almost full. As always with Delta, boarding was announced for passengers with special assistance and status holders followed by Economy class, zone-wise. I boarded the aircraft at 17:40 EDT. Before boarding, I had the chance to see a beautiful 767-300 operated by Condor to Frankfurt. I didn't have time to pull out my camera and take a picture.


Airline: Delta Airlines
Origin: Baltimore Washington International Thurgood Marshall Airport, Linthicum, Maryland, United States (BWI/KBWI)
Destination: Detroit Metropolitan Wayne County Airport, Romulus, Michigan, United States (DTW/KDTW)
Flight Number: DL1906
Aircraft Type: McDonnell Douglas MD-90-30
Registration: N920DN
Scheduled Departure Time: 17:54 EDT, 19th August 2018
Actual Departure Time: 18:07 EDT, 19th August 2018
Scheduled Arrival Time: 19:33 EDT, 19th August 2018
Actual Time of Arrival: 19:19 EDT, 19th August 2018
Actual Flying Time: 1 hour and 12 minutes



N920DN would operate flight Dl1436 to Detroit



Boarding in progress

Seating on the MD-90 in Economy class was in a 2-3 configuration. Seats were comfortable with sufficient legroom. I had an elderly couple for company in seats 24C and 24D. In-flight entertainment was offered in the form of the flight magazine and a clean window with a great view. A flight time of 1 hour and 10 minutes was announced from the flight deck. During the announcement, a WOW Air A321 from Reykjavik, Iceland, pulled into gate E2. Push back was on time at 17:53 EDT. We taxied to Runway 28 for departure. Once we lined up with the centerline, the 2 IAE V2525-D5 engines roared to power the 47m jet down the runway.



View from Seat 24E



WOW Air from Iceland
I've never been to an airport in the US where I haven't seen these Yellow Taxis
Taxi to Runway 28
Lining-up
Take-off from BWI!


After a steady climb in excellent weather to our planned cruising altitude of 30,000ft, the seatbelt signs were turned off. Several passengers moved about the cabin. The inflight snack service also started about 15 minutes after take-off. It was the usual snack that is served on most American domestic flights. Passengers could buy snacks apart from the complimentary snacks and drinks served on board. There was a choice between pretzels and another snack pack containing pretzels and chips for the complimentary snack. I picked the second option along with apple juice.



In-flight snack



Cruising along to Detroit
Info on the A330-300 in the inflight magazine


Around 40 minutes into the flight, one could hear that the engines got quieter, indicating that we had initiated our descent into Detroit. This was confirmed by the seatbelt signs coming on, accompanied by a brief announcement from the first officer informing the passengers that we would be landing around in DTW at around 19:15 EDT. The cabin crew picked up the cups and snack bags from the snack service and cleared the aisles in preparation for landing. We had started our descent somewhere over Ohio, continued over Lake Erie, then turned north to fly along the Detroit river before turning south for a landing on Runway 21L. The sky was clear, allowing for a smooth descent and landing, in addition to offering excellent views of the Detroit area during sunset. After a smooth landing on 21L, we taxied to the McNamara Terminal (Terminal A). We docked at Gate A27, next to a Bombardier CRJ-900LR.



Descent over Lake Erie



Flying over Grosse Isle Municipal Airport
Flying over Dearborn; The Ford Motor Company's headquarters are in this city
The Ambassador Bridge over the Detroit River connecting the United States (Left) and Canada (Right)
Final approach and landing: Runway 21L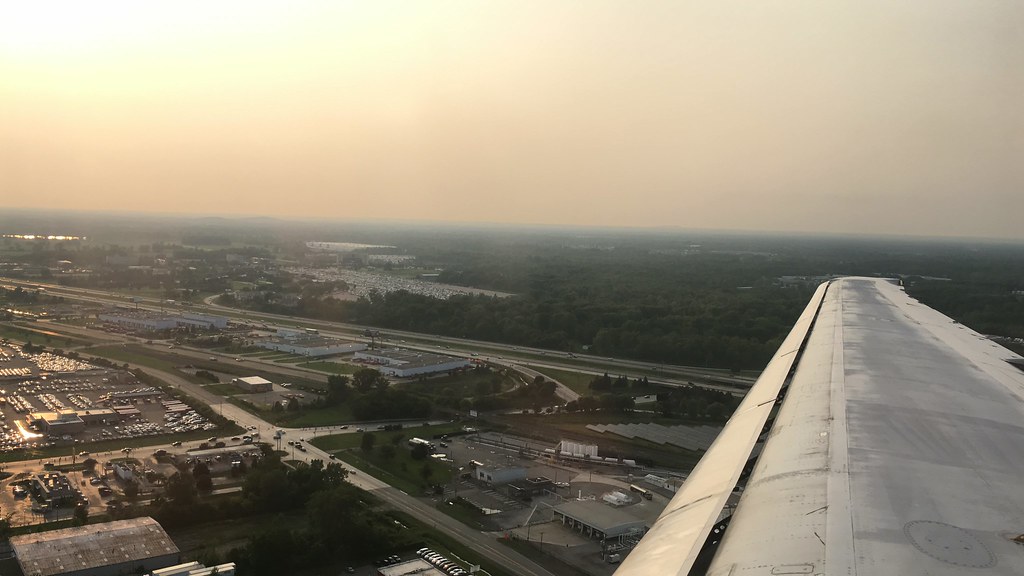 Taxi to Gate A27
Thank you for a lovely ride


I walked out of the aircraft into a super busy McNamara terminal while N920DN prepared for her next flight to Philadelphia. This was a wonderful flight with Delta, a great trip to Baltimore, all in all. The MD-90 is a wonderful aircraft, comfortable seats, decent legroom in economy, even for taller passengers on short flights such as this. The aircraft was well maintained, and the cabin crew were professional in service. If you guessed that I took a Lyft back home, yes, you're right. Anything to accumulate airline points.

I hope you enjoyed reading this as much as I enjoyed sharing my experience with you. Until next time, fly safe!
_________________
Best regards,
Ananth