http://www.theregister.co.uk/2016/11/04/worlds_shortest_international_flight_now_just_21km_in_7_minutes/
World's shortest international flight: now just 21km in 7 minutes



4 Nov 2016

Austrian airline People's Viennaline this week started flying the world's shortest international flight: a 21km hop from the Swiss town of St. Gallen to the German town of Friedrichshafen.

The two towns are separated by Lake Constance and 66.1km of roads that Google tells us will take just 54 minutes to traverse.

Along the way you'll cross the Switzerland-Austria border and the Austria-Germany border, but neither will inconvenience drivers as there's no border controls. Perhaps the toll booths along the way are bottlenecks?

The flight bounces through Friedrichshafen en route to Cologne, a 396km journey. So the short hop isn't really the airline's main game. Nor, The Register imagines, is low operating costs: airliners' maintenance milestones often accrue based on the number of takeoff and landing cycles. People's Viennaline is therefore clocking up a lot of cycles on its sole single 76-seat Embraer 170, OE-LMK. At €40 for the 21km journey perhaps it can afford to - although as the image at the top of this story shows*, flight PE200 sometimes meanders a little, on this occasion traversing 34km. It typically ascends to about 1,000 meters along the way.

The world's longest comercial flight is currently Air India's 15,300 km Delhi-to-San Francisco journey, which recently took the crown from Emirates' 14,200km Dubai-to-Auckland trip.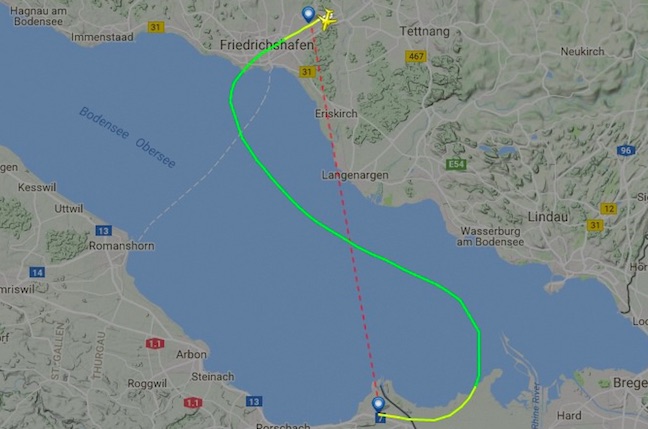 _________________
11000 posts (and counting) on Airliners-India.